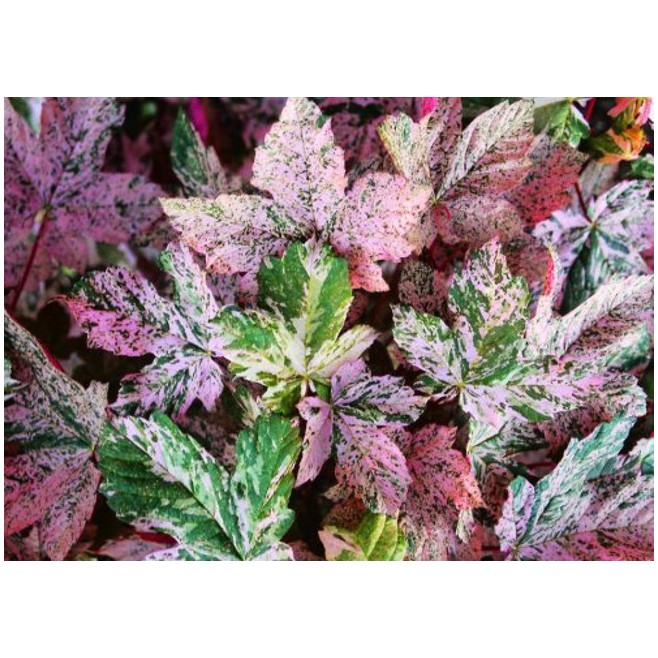  
Klon Jawor ESKIMO SUNSET 60-80cm C2
Klon Jawor ESKIMO SUNSET 60-80cm C2
Przedmiotem aukcji są sadzonki
Klon Jawor Esk Sunset
(Acer pseudoplatanus Esk Sunset)
wys ok 60-80cm
Jest to karłowata nowa odmiana o zmieniającym się zabarwieniu liści, pochodząca z Nowej Zelandii. Drzewo dorasta od 5 m do 10 m o pokroju gęstym, zwartym w formie stożkowato kulistej.
Jego liście są okrągławe, pięcio klapowe, długoogonkowe - po wyjściu z pąku jasno żółte, szybko zmieniają jednak kolor na różowy. Następnie zmieniają barwę na kremową z nieregularnymi, ciemnozielonymi plamami. Spód liści i ogonki liściowe purpurowe, nadają różowawy odcień całemu ulistnieniu. Na jesień znowu zmieniają kolor - na pomarańczowo-czerwony.
Wymaga gleby wilgotnej, zasobnej i głębokiej. Lepiej wybarwia się na stanowisku słonecznym, ale należy zadbać aby było to światło rozproszone, dla ochrony przed poparzeniem. Odmiana powoli rosnąca, polecana do małych ogrodów, ogrodów przydomowych, parków i nasadzeń alejowych. Odporny na choroby oraz mróz.
Poniższe zdjęcie pokazuje przykładowe nasze sadzonki które znajdują sie w doniczkach
(real foto 05.2022)
wysokość sadzonki podajemy zawsze nad ziemią (doniczka nie jest wliczana do wysokości)
Ze względu na pogodę tego lata część naszych roślin ma oparzenia słoneczne - słońce za chwile grad lub upał i zimny deszcz. Nie są to zmiany chorobowe a zwykłe oparzenia.
Opis
Rodzaj rośliny

Klon

Wysokość sadzonki

60-80

Roślina w postaci

2-3L
Na razie nie dodano żadnej recenzji.